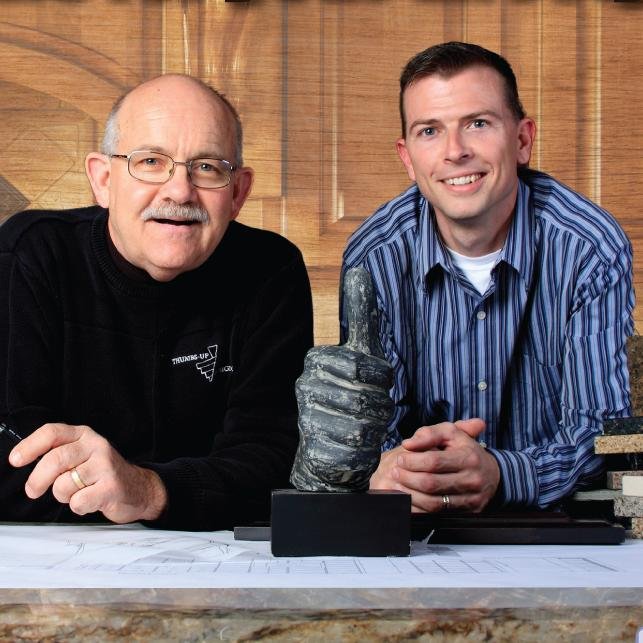 There is no doubt Thumbs-Up Designs was meant to be. You see, while on a mission trip in 2004, founder Curt Mavis was contemplating a serious life change—starting his own business. He had worked for 30 years in the kitchen and bath design industry and was considering opening his own firm; one which reflected his own ethics and artistic vision. While Curt was on a mission trip, ideas about a new direction and business were rolling through his mind as a Navajo Indian woman quietly approached him, smiled, and give him a "thumbs-up" sign. Not only did this moment affirm his idea, but his company now had a name!

Before starting in kitchen and bath design, Curt worked as an art teacher; a background he believes laid a solid foundation for a career in kitchen and bath design. His artistic background also lends itself to knowing, practicing, and teaching the design process. Curt is proud to be one of the few Certified Kitchen and Bathroom Designers in Central Illinois. He is also a member of the American Society of Interior Designers and the NCIDQ.


Family is truly at the heart of Thumbs-Up Designs as the business is run as a partnership by Curt and son-in-law Josh Gillis. Curt's wife Teresa and daughter Jessica are an ever-present support, while granddaughters Lily and Hadley, lovingly referred to as the "CEO's," are frequently found helping Dad and Grandpa around the office.
As Curt and Josh understand the importance of family, they also appreciate having spaces in a home designed to fit the specific needs of each and every family. They pride themselves on creating functional and comfortable living spaces everyone can share and enjoy. And as the Navajo woman gave Curt a "thumbs-up," both Curt and Josh continually work hard to receive a thumbs-up from every client.